Pizza, what's not to love? A tasty dish that feeds the entire family, great for events, birthday parties, or nights home with a bottle of wine and a movie. From kids to foodies, everyone loves a good pizza pie. With all the new varieties of pies these days, it's hard to lock down the perfect place.
We've rounded up the best pizza joints around Mid-Michigan. Have fun finding your new pizza place!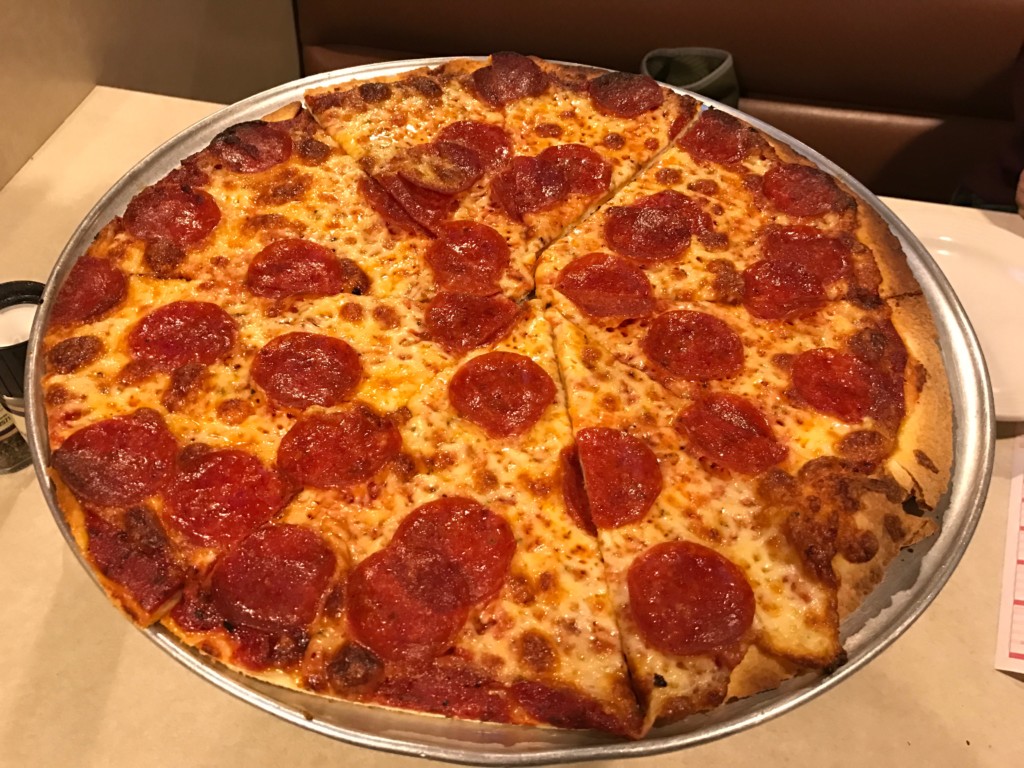 Big Brutus – Mt. Morris
Stop in this place during lunch on a weekday and the phone will be ringing off the hook with orders from the local businesses. Handmade pizza with yummy crust, and a sweet sauce, Big Brutus does not disappoint.
Bob's Original – Flint
If you live in the Kearsley area you've had Bob's pizza. This locally owned family favorite is known for delicious pizza, toasted subs, and even better breadsticks.
Sicily's Pizza – Flint
Lorenzo Finateri started the pizzeria as a family-owned and operated restaurant specializing in traditional thin crust pizza, which is like pizza from the old country: a larger portion of items, and some of the best pizza in town!
Luigi's – Flint
Known for their thin crust and amazing dishes this restaurant is a great place to meet up with friends and family for a delicious meal and a drink, even to host events from retirement parties to sports fundraisers. A Luigi's regular told me the secret to best slice of the pizza is sprinkling a few of the red pepper, flakes, a little parmesan, and a dash of the red wine vinegar on top. If you live in Genesee County and haven't tried Luigi's you're missing out, it's been a Flint tradition since 1955 and once you taste their food you'll know why.
Val's Pizza – Owosso
A ton of varietys of pizza plus a whole lot more including subs, wings, burgers, salad, and mexican Val's is truly the go-to for quality pizza in Owosso PLUS they offer easy online ordering!
Huckleberry Junction – Genesee
Where else can you get yummy pizza and have a giant play area for the kids? Huckleberry Junction home of great birthday party's and excellent pizza. Be sure to check their facebook page for specials, including plans with tokens for the little ones!
Romas Pizzeria & Restaurant
Fresh pizza, fresh ingredients, and an extensive menu at this family-friendly restaurant located in Flint. On top of the average pizzas, their menu includes stromboli, Chicago style pizzas (sauce on top), tons of pasta dishes, and great salads.
Pizza Co – Davison
Pizza, ribs, subs, stromboli, salads, and wings – Pizza Company has endless options. Voted the best pizza in Davison seven years in a row, this hometown favorite is known for catering events, small to large, they meet your needs. Be sure to try their cream cheese dip for the breadsticks, and check their website for current specials!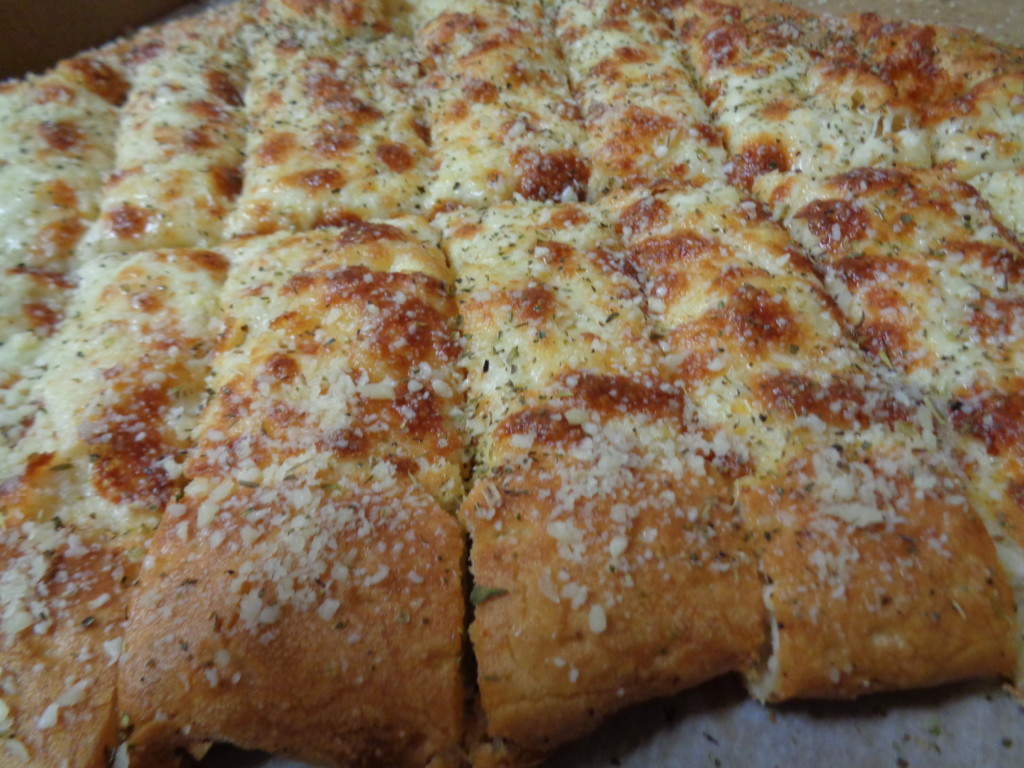 Sicilian Brothers – Davison
This locally owned and operated pizza shop has been in business since 2011. They have delicious pizzas including a gluten-free option, subs, wraps, wings, and tasty breadsticks. Be sure to check their website as they have specials for every day of the week and weekly deals!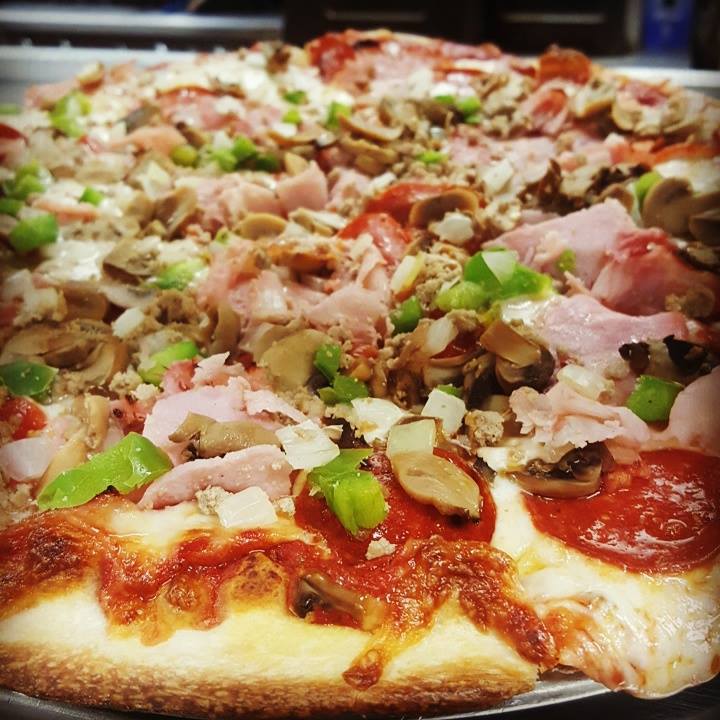 Johns – Davison
This family restaurant has been a staple in Genesee County for years, in addition to the restaurant equipped with a full-bar they also offer event space, catering options, and easy take-out. In the summer you can enjoy fresh Italian dishes while checking out the car shows they host weekly. Be sure to visit their facebook page for printable coupons, and weekly specials, as well as their schedule of events.
Papas Pizza – Goodrich, Lapeer, & Metamora
Papas Pizza is known for fresh ingredients, timely service, and being a very active member of the communities it serves. Their extensive menu includes pizza (including gluten-free), stromboli, salads, wings, and traditional specialties. They offer easy online ordering, and after 10 orders your 11th is free!
Sam's Italian Restaurant – Swartz Creek
A favorite of the Swartz Creek community since 1974, you can choose from many of their Italian specialties, pizzas including a chicken alfredo style, and homemade lasagna. Sam's offers event space with banquet rooms, catering, dine-in, and take-out options. Their facebook page offers tons of specials, as well as various events!
Gina's Italian Restaurant – Flushing
Home of the 'Gina's Special Pizza', which we were told you have to order even if you don't olives (pick them off)! Founded in 1963, and under the same ownership since 1978 Gina's offers a wide variety of dishes, and is a great joint to stop in with friends for delicious food and some drinks! They even have been known to ship their pizzas anywhere in the continental US for a small shipping fee to former Genesee County residents who just want a taste of home!
Twins – Clio
This local family-favorite is known for mouthwatering fresh pizza and Italian delights. This hometown favorite is great for dining in with friends and family. When the weather is warm the patio is packed with local patrons indulging in anything from burgers, to fish, and their famous strombolis. Their online website is filled with specials and a super cool pizza builder which allows you to make your Twin's pizza exactly how you want it!
Joe's Garage – Clio
Another local favorite, Joe's Garage, is always packed be it for ladies night, car shows, live bands, or just people who want a great pizza and a tasty drink. Their facebook page doubles as an event calendar, and is full of weekly specials!
Tiffanys Food & Spirits – Frankenmuth
Located in the heart of Frankenmuth, right on Main Street this restaurant started as a Biergarten in 1904, and now is known as a great place to meet friends and family! You can dine-in, take-out, and even enjoy lunch and dinner on their spacious patio. In early September good luck finding a seat during AutoFest where the best seat in town may just be on Tiffany's steps. Tiffany's is famous for their 'Original Pasta Pitza', topped with in-house homemade pasta, there are 8 varieties which include lasagna, chicken marsala, and even tortellini marinara. Tiffany's also has great vegetarian and gluten-free options!
Splash Village – Frankenmuth
That's right the water park has awesome pizza. Dine-in the Elf Hollow Grille, take-out, or spend the day in their 50,000 square foot water park – whatever you do make sure you don't leave without trying their pizza. Great for family events, work events, or just a day out with the little ones be sure to check their website for deals and combo packages!
Fenton House – Fenton
A hometown favorite, the Fenton House is the place you meet up with friends and family, after sporting events, church, or just because! Known for their breadsticks, this Italian place has delicious pizza including Mexican and pesto pizza. In warmer weather, you can enjoy lunch and dinner on their patio, and there is always the take-out counter which is packed all seven days of the week!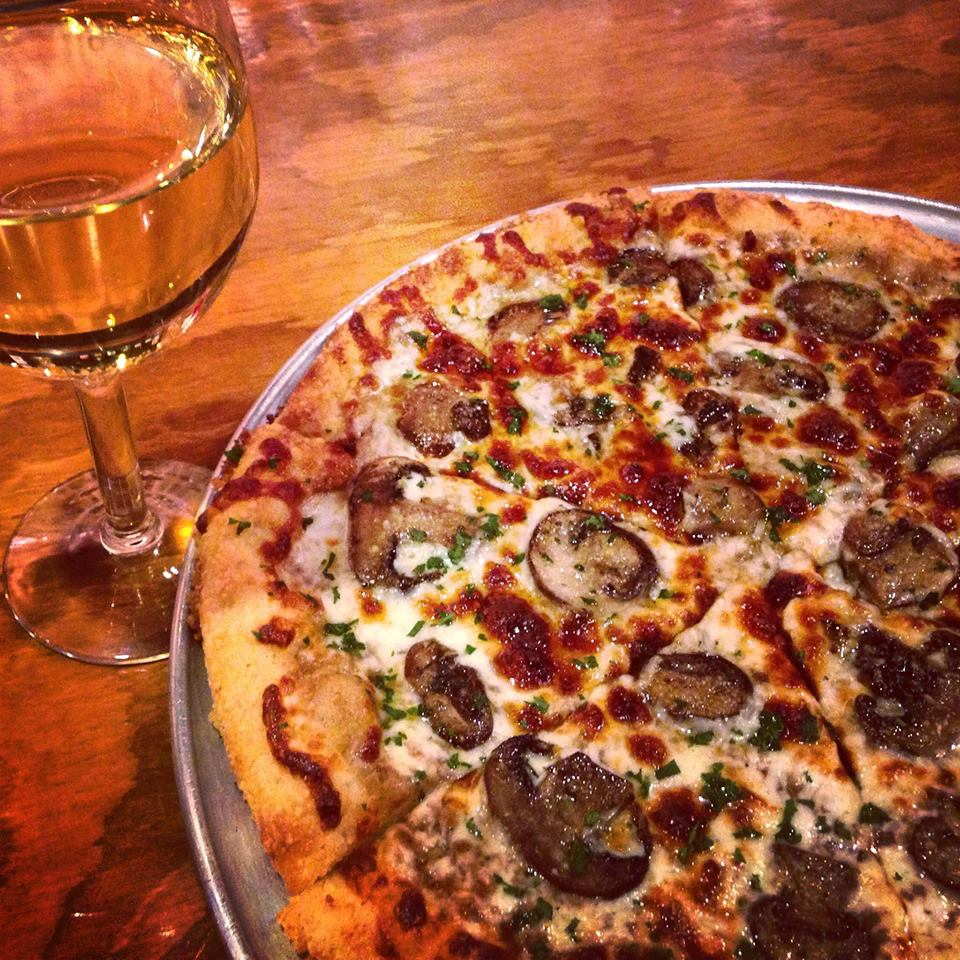 Fenton Winery & Brewery – Fenton
This hidden gem, a winery and, brewery, is a great place to enjoy a night out with friends and family. How many other restaurants are stocked with board and card games to play with your little ones while waiting for dinner? Their pizzas are all hand-tossed in-house, made with fresh ingredients, and often the reduction is made right from their own beverages. The best part is the tap-room menu includes a drink pairing guide to make sure your entire meal is on-point. The 'Golden-Ticket' is their most popular pizza, and every Wednesday they offer 5$ off any large pizza! Be sure to check their facebook page for events and specials.
Lorenzo's – Grand Blanc
Offering take-out and delivery Lorenzo's was just recently voted the best pizza in Grand Blanc for 2016. With easy online ordering, they have an extensive menu, that includes pizza, grinders, stromboli, salad, and more. Be sure to visit their facebook page for specials!
Roccos – Grand Blanc
Family owned and operated since 1974 this local favorite is a great place to spend time with friends and family. Known for their pizza, pasta, salad, and subs you can't go wrong with anything on the menu. They have printable coupons on their website, and always are posting 'Facebook only' specials!
Calabria Village – Linden & Locri Pizzeria – Davisburg
Family owned and operated since 1997 these two pizzerias specialize in great customer service and homemade quality food including gluten free and cauliflower crust options. Their homemade ranch is a fan favorite!
Buccilli's Cakes & Pizza- Almont
Absolutely amazing pizza and the baked goods – WOW. If you swing by to pick up a pizza and side of cheese bread, plan to bring home a 6-pack of fresh cupcakes or decorated sugar cookies.
Greg's of Metamora
A casual family-dining experience, offering hand-crafted American cuisine and warm hospitality in a comfortable environment. Greg's specializes in mouth-watering ribs, delicious hand-tossed pizza and incredible entrees that will be sure to delight. Our food is sourced from top quality seasonal ingredients, featuring our unique twist into every dish
Eudici's – Saginaw & Bay City
"It comes down to really good ingredients and making everything fresh. Our pizza dough is made fresh right here every day and our toppings, our onions, and peppers are cut on the spot."
D'Angelo's – Bay City
No-frills counter-serve spot providing specialty pizza as well as wings & burgers, plus vegan bites.
BJ's Pizza – Bay City
Often dubbed 'the best pizza in town'. A no-frills pizza joint. Pizza, coneys, sides, salads, and we hear the deep-dish is worth every penny.
G's Pizzeria – Bay City & Saginaw
Large, comfy spot with classic pizzas, sandwiches & Italian mains, plus a full bar with beer on tap.
The New Pompei – Bridgeport
Pizza & other Italian bites are offered along with daily specials in a comfy, enduring eatery.
Pizza Sams – Midland
Downtown Midland's family-friendly destination for pizza, salads, sandwiches, frosty cold beer, and so very much more. Dine in, delivery, or takeout.
Mancino's of Midland
Simple chain featuring pizzas & sandwiches made with house-baked rolls.
The Pizza Dude – Midland & Pinconning
Fresh dough, house-made sauce, brick oven baked to perfection. Find your perfect fit on our expansive menu that includes our specialty pizza, salads, grinders, and more!
Crispelli's Bakery & Pizzeria – Clarkston
In 2012 Crispellis opened their doors with one goal: affordable gourmet. It may sound really cliché, but you'll find something for everyone here. Wine, on-the-go thin crust pizza, Detroit deep dish, salads, pasta, meatballs, breadsticks, sandwiches, and more!
Do you have a favorite pizza place around Mid-Michigan we missed?
Be sure to share it by emailing us at info@midmichiganmomsblog.com!