There's nothing like digging your hands into the sand beneath Lake Michigan to scoop a handful of rocks and stones to eventually lay eyes on a Petoskey Stone – Michigan's state stone. If you landed here you're either 1. A fellow rock hunting lover like myself or 2. Visiting Northern Michigan and are looking for clues in finding Petoskey Stones. If you ask me, a Petoskey Stone is a true treasure and lucky for you I'm sharing my go-to spots + tips for finding these beauties. And when I say "lucky for you" I mean it because I've never left one of my go-to spots without a Petoskey Stone.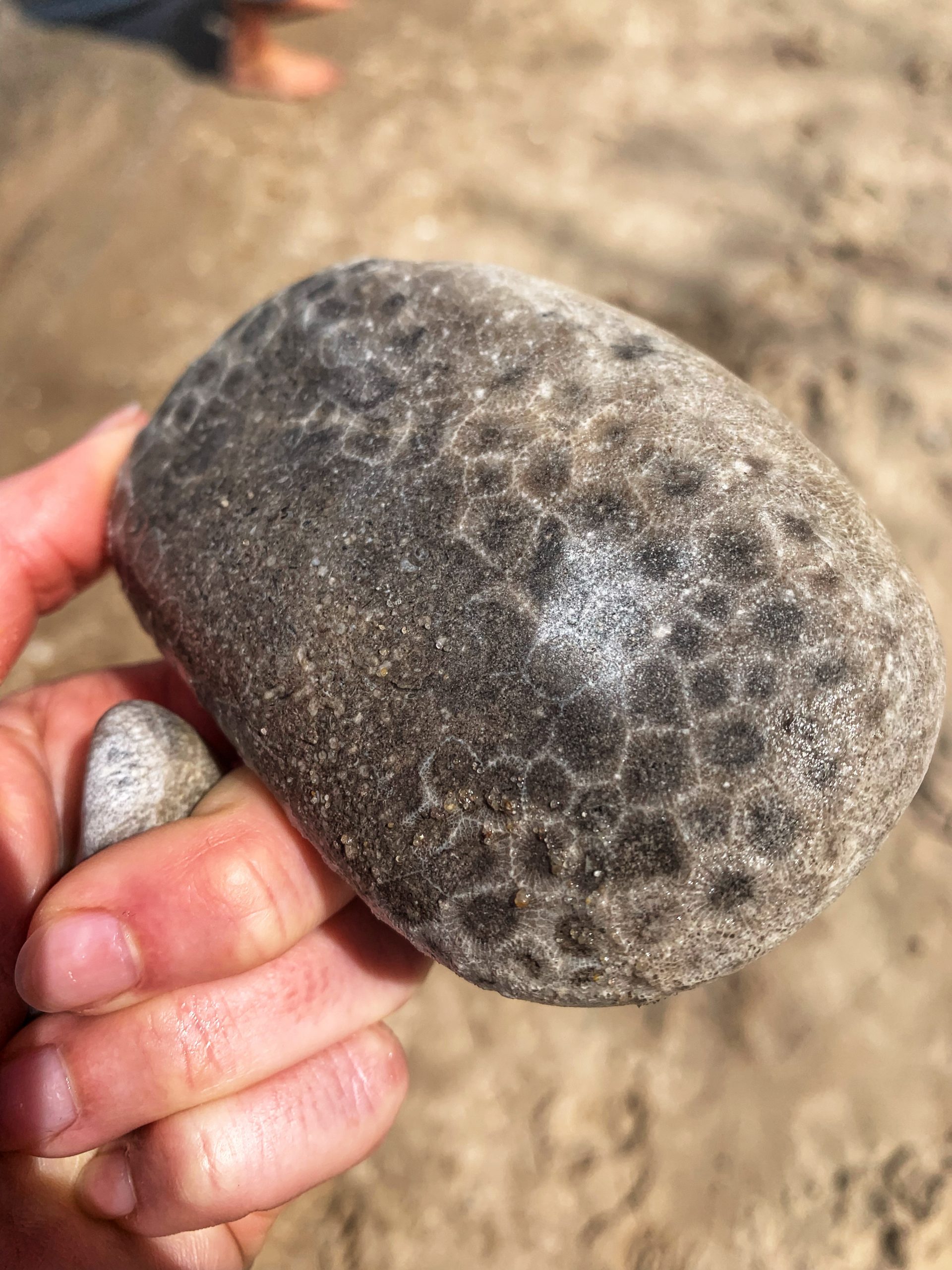 My go-to spots:
East Bay Park, Traverse City

| This hidden gem features a small beach area located at the bottom of East Arm of Grand Traverse Bay and is home to some small but beautiful Petoskey Stones. The park also features a small play area with picnic tables making it a perfect spot for a picnic lunch.

Old Mission Point Park, Traverse City

| Parts of this beach are very rocky which makes for amazing stone hunting! The beach is a beautiful beach to walk and is home to Mission Point Lighthouse.

Empire Beach Park, Empire

| Another beautiful beach that offers miles and miles of epic stone hunting opportunities. Along your route to Empire Beach Park you'll find a few narrow roads leading to Lake Michigan that might provide a quieter spot for stone hunting if you're visiting during a busier time of year.

Glen Haven Beach, Glen Arbor

| This beach is one of my all time favorites as I made lots of childhood memories at an A-Frame cottage right across from this beach area. When visiting here during the summer months you'll definitely want to stroll down the beach a ways to enjoy some piece and quiet during your search.

Petoskey State Park, Petoskey

| A perfect spot to visit for some evening stone hunting.

Sleeping Bear Dunes National Lakeshore, Empire

| Pack your strainer, wade into the waters of Lake Michigan, and you'll find a beauty or two here, no doubt.
My tips:
Think spring. Beaches are much less crowded when the weather starts to warm up prior to Memorial Day weekend. Plus, thanks to the winter turnover in Lake Michigan, new stones are turned over on the surrounding beaches making it PEEK time to find a "keeper." The water is also really clear this time of year upping your chances of laying eyes on a stone without all the work.
Bring a strainer and wear pants with pockets. Digging into the sand with your hands is fun and all but if you find a really good rocky spot under the water you'll want a strainer to help dig and sift through all the rocks and stones you're bringing up. You'll also want pockets to keep your stones safe and sound.
Get your kid(s) involved. I'm going to say that 99.9% of kids love rocks! So, make it a family event and go on a rock hunt for one of these Michigan beauties.
If you find one stone there's more than likely a few more right where your feet are when you find that one. Is there research to back this tip up? Nope. But in my experience (20+ years thank you very much) whenever I find one stone I usually grab 2-3 more right in the same spot.
Visit the area of the beach with the least amount of people. When you visit any one of my go-to spots in the summertime it's usually pretty busy so you'll want to walk down the beach a little ways where there have been less people. You're definitely not the only one looking for Petoskey Stones these days.
Understand the beach rules. The Michigan DNR works to protect our beaches and beach goers are only allowed to remove 25lbs of stones each year.
Tell me about your Petoskey Stone hunting adventures! Does your family enjoy stone hunting while visiting Northern Michigan?