Holiday traditions are one of my favorite ways to make memories and create excitement and joy. I try to have a few traditions for each holiday that my kids look forward to, but without overcommitting myself.
A tradition that I have found to be among the most exciting and meaningful is a Thankful Turkey. This guy requires minimal supplies and a bit of prep time but has been so impactful in encouraging thankfulness and gratitude in our home.
Supplies:
Brown construction paper or brown paper bag
Small pieces (or scraps) of white, black, yellow, and red paper
Scissors
Painter's or masking tape
Variety of colored and patterned construction or scrapbooking paper
Thankful Turkey Directions:
Using brown construction paper or a paper bag, cut out an ovalish turkey-looking shape. You can find a template online or wing it!
Cut out eyes, a beak, and a little snood (the thing that sits atop a turkey's beak). Glue these pieces in place.
Use painters or masking tape to place your turkey on a door or wall in a common area of your home. We use the pantry door in our kitchen, so we see our turkey daily!
Cut out feathers from construction paper or scrapbook paper. You will need enough feathers to add one for each child every day from November 1st until Thanksgiving.
Ask your child or children daily what they are thankful for and write it on a feather. Place a piece of tape on the back of the feather, and tuck it behind your turkey.
Continue to add one new feather for each child every day. We do this during breakfast. I also set a daily reminder on my phone so we don't skip any days!
Read the feathers throughout the month to help remind children of what they are grateful for.
On Thanksgiving day, read each feather and talk about gratitude and thankfulness.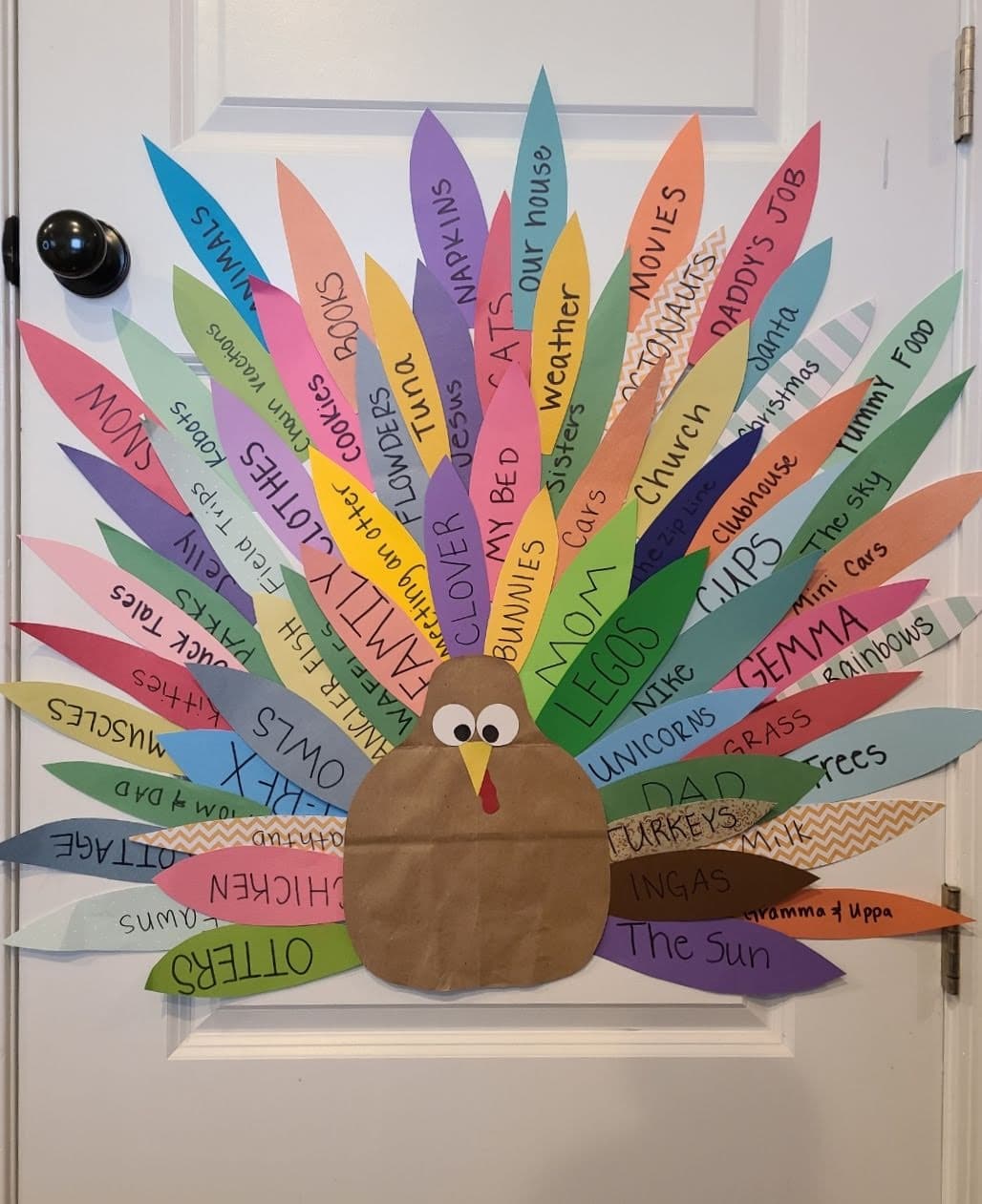 What are others ways you and your family practice gratitude? Comment below and share your ideas with us!
Looking to connect with us online? Check out our Facebook or Instagram pages!
Looking for some other family favorites around the Mid-Michigan area?
Check out our guides here!