Gifts! They can be either super easy to find or incredibly difficult depending on the person. My husband thinks I have a shopping problem, but it's not my fault the $5 aisle at Target has such cute items.
This past Christmas was the first one my husband and I spent as a married couple and the pressure was on for more than one reason…
His mom is secretly a Southern Santa Claus. This woman is just the gift that keeps giving. No matter the person or event, you can expect a million amazing gifts each individually wrapped. It doesn't matter where we are either. She will mail you a box big enough for a person to hide in if need be.
This past Christmas was also our first before the arrival of our daughter. I wanted my husband to feel loved. I knew that our lives were about to change in so many amazing ways with the arrival of our baby, but you know as well as I do that after kids arrive, sometimes they get all of the attention.
That being said… the pressure was on.
I should also confess, that no matter the occasion, I do get really stressed about what to gift someone. I don't want to repeat gifts or just phone it in with something easy like a gift card. Some people are easier to shop for than others. So for my husband's Christmas gift, I decided I was going to be a "Super Wife" and spent months preparing.
My husband, Matt, is the chef in our household, so I decided to get him either an Instant Pot or an Air Fryer. While researching my options, I discovered that Williams Sonoma made custom printed Instant Pots. In honor of the latest Star Wars movie, the California-based company debuted a special edition wrap for fans awaiting the pre-Christmas release of the film. It was perfect!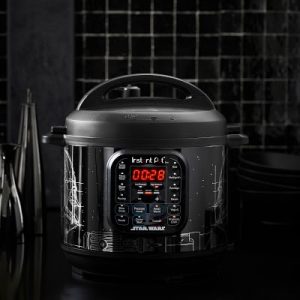 Fast-forward to Christmas morning…. he was so excited about it and I thought I officially won Christmas since he is the Ultimate Star Wars fan…
…but wait, plot twist!
It has now been six months since the unwrapping and he hasn't used his one-of-a-kind Instant Pot yet! Yep, you read that correctly, not even once. But you know who has? His Super Wife… me! That sweet Darth Vader Instant Pot would still be sitting inside of a box if I didn't put it together myself. Truth be told, I am no chef and have struggled to figure out what all the buttons mean, made some very undercooked shrimp, and burned some pasta all on my own just to use the darn thing.
But complaining aside, you know what I have learned from this experience? I'll be looking for gifts for my husband that I would enjoy too. Now, obviously some items won't work, but I hope he loves fuzzy slippers because that's what we are both getting for Christmas this year so we can kick up our feet and enjoy our new little family, together – no pressure.