As the days become shorter and the air cooler, we are daydreaming of over-sized sweaters and boots; while our children are planning Halloween costumes and jack-o-lantern designs. An annual trip to the pumpkin patch is a family must and one that we look forward to all year. Below, we have compiled a list of everything fall and pumpkin patches in + around Mid-Michigan.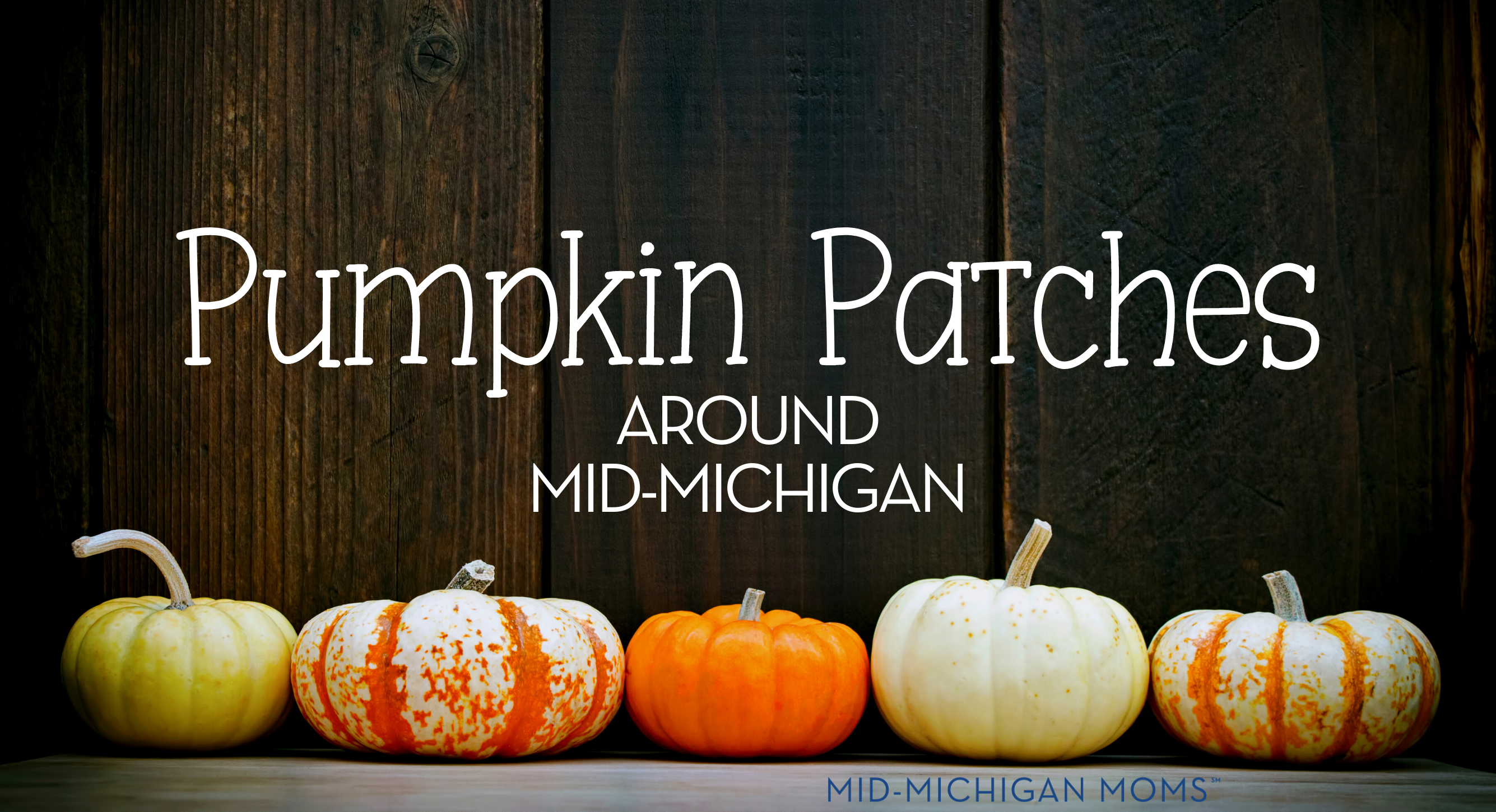 Davison Pumpkin Patch – 11029 E Lippincott Blvd – Davison
Pumpkins, gourds, squash, stalks, and straws
Fick Farms – 3199 N Lapeer Rd – Lapeer
They offer a corn maze, hayride, u-pick pumpkin patch, nighttime activities, cider donuts, food, and a selection of fall decorations
Little Pumpkin Patch – 8200 Fenton Rd – Grand Blanc
Pumpkins, gourds, corn stalks, u-pick with limited availability, farm animals, and beautiful scenery for photos
Tomac Pumpkin Patch – 19758 Corunna Rd – Chesaning
Pumpkins, gourds, Indian corn, fall wreaths, and decor
Luft Lyle Pumpkin Patch – 3444 W Bennington Rd – Owosso
Johnson's Giant Pumpkins – 4715 N Portsmouth Rd – Saginaw
Pumpkins, corn maze, craft store, donuts, and exciting weekend activities including pumpkin launching, magicians, and live music
Grandma's Pumpkin Patch – 4277 N Eastman Rd – Midland
Pumpkins, donuts, corn maze, farm animals, hay rides, and playscapes
Papa's Pumpkin Patch – 3861 S Summerton Rd – Mt Pleasant
Pumpkins, seasonal produce, hayrides, train rides, jams, and jellies
Kohl Farms – 3062 Hobard Rd – Gagetown
Pumpkins, corn maze, wagon rides, jump pad, and fall decor
Montrose Orchards – 12473 Seymour Rd – Montrose
Pumpkins, cider, fall decor, and fresh produce
Grandpa Tiny's Farm – 7775 Weiss St – Frankenmuth
Pumpkins, petting zoo, farm store, and corn maze
Spooky Trails Farm – 8266 Baldwin Rd – Swartz Creek
Pumpkins, hayrides, haunted house, and corn maze
Dietrich's Pumpkin Patch – 7157 Green Rd – Fenton
Pumpkins and seasonal vegetables
Past Tense – 1965 Farnsworth Rd – Lapeer
Pumpkins, hay rides, cider mill, farm store, and restaurant
Spicer's – 10411 Clyde Rd – Fenton
Children's play area, donuts, fudge, hay rides, pumpkins, and u-pick produce
Erwin Orchards – 61475 Silver Lake Rd – South Lyon
Cider mill, pumpkin patch, corn maze, and seasonal u-pick produce
Three Cedars Farm – 7897 Six Mild Rd – Northville
Cider, donuts, pumpkins, and country store
LJ's Farm Market – 1545 Millville Rd – Lapeer
Pumpkins, produce, greenhouse, and juice bar
Eichelberg Farm – 11154 Linden Rd – Linden
Pumpkins, produce, and according to their reviews, 'the best corn!'
Westview Orchards – 65075 Van Dyke – Washington
Pumpkins, produce, farm animals, kid's activities
Maxwell's Pumpkin Farm – 4676 M-18 – Beaverton
Pumpkins, fall decor for purchase, kid play areas
The Wild Pumpkin – 5799 Beaverton Rd – Beaverton
Pumpkins, petting farm, corn maze
Brimley's Pumpkin Farm – 294 S Every Rd – Mason
Pumpkins, gourds, corn maze
CornFun Corn Maze Adventure – 9391 Lindsey Ln – Casco
Corn maze, hay rides, pumpkin patch, petting zoo, fresh cider
Blake's Orchard – 17985 Armada Center Rd – Armada
Hayrides, pumpkin patch, farm animals, fresh cider
Before heading out, contact your selected location to ensure they are open and that pumpkins are available!